IECEx Zone 2 Approved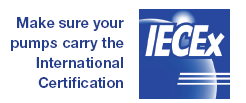 IECEx is the IEC System for Certification to Standards Relating to Equipment for Use in Explosive Atmospheres. It uses quality assessment specifications that are based on International Standards prepared by the International Electrotechnical Commission (IEC).
Zenit Submersible Pumps exceed the new standard.
As one of the leading names in water treatment technologies, this pump have been awarded the IECEx – the international certification covering the use of equipment and services in explosive conditions.
So what is a 'hazardous area'?
You can't be too careful in hazardous areas – which is any space where flammable liquids, vapours, gases or combustible dusts could occur in high enough quantities to cause a fire or even an explosion.
These include:
car parks
truck stops
vehicle workshops
bus depots
and garages
2 year Zenit Warranty.
Selection Guide.....

MEX Models are IECEx Single Phase without float switch
MGEX Models are IECEx Single Phase with float switch
TEX Models are IECEx Three Phase without float switch